Thank you for visiting the Koenigsegg Chicago Website! We invite you to come check out our 70,000 sq foot facility in Lake Bluff, IL. Here at Koenigsegg Chicago you will find one of the largest indoor displays of high performance automotive fashion anywhere in the country.
Our highly trained sales staff are here to make sure that your purchase experience is simple, satisfying and most of all fun! In addition, we have backed our sales staff with an award winning service and parts department whose sole goal is to make your after-sales experience flawless. We have been a Factory Authorized Dealer since 1981, so we've been doing this a while, and we know what's important to our clients. Please enjoy our website and whenever you're in our neighborhood, stop by and have a look around. We look forward to showing you all that our sports car campus has to offer!
– Rick Mancuso, President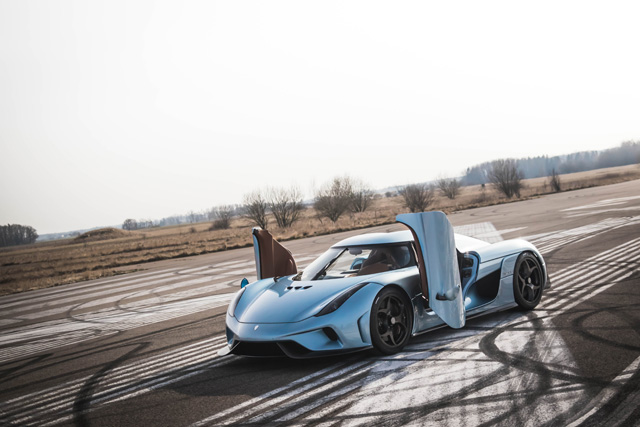 History of Koenigsegg Chicago
---
The success of Koenigsegg Chicago lays not only in the quality of its facility or the DNA of its vehicles, but with the people who stand behind it – The Mancuso family.
In 1923 Rick Mancuso's grandfather, Benjamin, opened a showroom selling new cars in Batavia, New York. A new chapter started when Rick Mancuso's father, Jim Mancuso, moved to Chicago in 1953 and shortly thereafter opened Mancuso Chevrolet in North suburban Chicago.
The legacy continued when Rick Mancuso decided to branch off from his fathers' Chevrolet dealership in 1981 and on his own started what is now Koenigsegg Chicago. Rick built the dealership from the ground up, the business had its start in a small but charming storefront in downtown Lake Forest and eventually grew into a 70,000 sq ft facility which now carries the Koenigsegg franchise.

Now it is the fourth generation of Mancuso's (Rick's two sons Adam and Nick as well daughter Cassie) who are carrying on the family tradition of selling quality, ultra high-end automotive products, while continuing to remain in touch with Rick's passion for motorsports.
---
Our Philosophy
---
Since the opening of the first Mancuso dealership in upstate Batavia, New York in 1923, our business has concentrated on treating our clients as family.  We'll work hard to earn your business.  We'll work harder to keep it!  At Koenigsegg Chicago, were proud to be part of an 80 year tradition of automotive value that the Mancuso family represents.  For four generations, a passion for automobiles has driven an industry reputation for innovation and customer satisfaction.  Beyond the purchase, Mancuso customers experience a unique relationship with the dealership staff that is based on respect for our clients, their time and their trust in us. We look forward to assisting you with your purchase and promise to do everything possible to enhance your ownership experience.
♦ The Mancuso Family
My father wrote this article 34 years ago when he was 56 years old. His thoughts and ideas are as relevant and timely today as they were then.  He passed away in 2001 but his moral and ethical compass continues to guide us both in our personal and professional lives.
Click Here ► America I love you: by Jim Mancuso
♦ Rick Mancuso
---